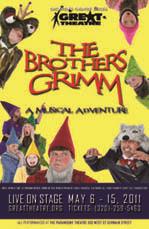 "THE BROTHERS GRIMM: A MUSICAL ADVENTURE"

Book, music and lyrics by Mariénne Kreitlow
Once upon a time is thrown upside down as Grimm's characters like Little Red Riding Hood, Snow White, Jack and the Beanstalk and even Hansel and Gretel are brought together in a magical forest. A wickedly fun musical romp bringing together many of your favorite fairy tale characters in an original and wacky fantasy! The World Premiere – directed by Dennis Whipple with choreography by David DeBlieck – was May 11th, 2011 by GREAT Theatre, St. Cloud, MN
---
"EARL TRACY"      Book, music and lyrics by Mariénne Kreitlow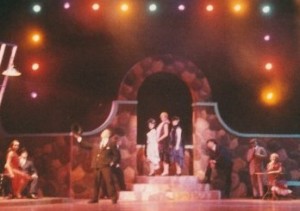 Set against the turbulent backdrop of the early twentieth century, this historically-based story traces the life of a charismatic and controversial figure. Renowned for his seductive powers with women and worldly ways, revealed in conflict with the conservative community in which he lived, Earl Tracy was widely known as a powerful faith healer. Before his death on Christmas day, 1938, at the age of 52, Earl attracted crowds of those desperate for his healing touch, taking in up to a thousand dollars daily during the Great Depression in a small Minnesota town.
This fascinating, multifaceted show incorporates Scandinavian folk influence with a contemporary flair. Songs like "It's Changed", "Emma's Song" and "Take A Jump" portray the charm of this rural town. Traditional hymns create a powerful emotional bedrock, interwoven with heart rending ballads ("Why Doesn't He Talk About Jesus?" and "Take My Pain Away"). Then there are big production numbers like the hot jazz of "Chicago", a driving primal release in "The Power Of Love", and Latin rhythms fusing with polka in "Tangled Tango"!
---
"EXCELSIUS"    Book, music and lyrics by Mariénne Kreitlow

The Excelsius is in trouble. The once majestic building that houses a struggling music store is in decay, reflecting the unfulfilled dreams and broken promises of her inhabitants. In a multicultural collision, the staff feuds as their place of work is threatened by demolition, all under the watchful beetle eyes of a homeless man with super sensitivities. The group includes a former ballet dancer who bears an injury of the body and heart; an alluring woman from Brazil who carries the rhythm of samba in her soul; a Plain Jane about to blossom; an incessant percussionist; a music nerd who can only theorize; and a single mother demanding a better world for her child. In trying to save the Excelsius they have a rare chance to save themselves.
The show's Millennium Broadway music is fresh and enticing: from an intimate Brazilian ballad, a man-to-man love song, a bitter dirge, a vaudevillian show stopper, high powered gospel-blues, ethereal dance for madman and basketball, Celtic clogging, to a celebratory samba.