Wading through waist high grass thick with mosquitoes
to the grove that Grandpa planted long ago,
she spreads the last of her mother's ashes,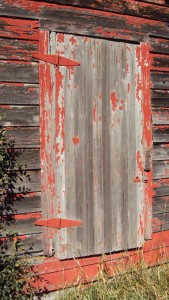 ten years gone, returned at last to her birthplace;
a North Dakota farm.
She remembers the grass as short and scrubby.
Chicken shit had stuck to her bare feet
after she ran around and around the yard.
She rinsed them off in the rain bucket.
Grandma got so mad for ruining her precious water.
Precious water, collected for rinsing her hair
so it would be soft and shiny.
Something soft in that drouth-ridden land.
White lime crusted over barren soil
where flax and wheat tried to grow.
The woman remembers some kind of magical bush
whose pods would pop with the brush of a hand,
and every time a bird would sing
Grandma's face would soften,
like a spring breeze passing through
before she scrubbed the worn linoleum floor.
9/18/2014